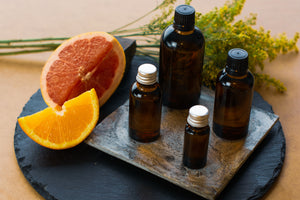 Lift your spirits with the high vibe joyful bland of grapefruit, orange and ylang ylang in skin loving jojoba and Almond oil.
Key Ingredients:
Organic Jojoba Oil - this is a beautiful rich and nourishing oil which is the oil that most closely resembles the sebum our own skin produces. Absorbs easily into the skin and is non greasy.
Organic Sweet Almond Oil - a light and moisturising oil perfect for massage and improving skin texture.
Organic Grapefruit Oil - the scent of grapefruit oil is so uplifting and light. It's latin name is citrus paradisi - like paradise!
Organic Ylang Ylang Oil - A heady intoxicating oil which in aromatherapy is used to boost mood and happy feelings.
Organic Sweet Orange Oil - a sweet and joyful aroma of oranges known to lift the mood.



How to Enjoy:
Can be used in the bath by adding approximately a tablespoon  of oil to bathwater or it can be used directly on the body as a nourishing massage or body oil.
Available Size:
50ml in a glass bottle with aluminium lid.
Organic
Vegan
Palm Oil Free
Cruelty Free