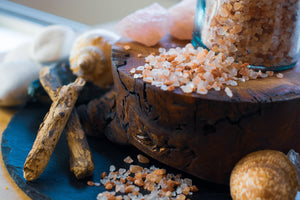 Made with a beautiful, dreamy blend of Lavender, Chamomile, Geranium and Patchouli oils to help calm the system and balance the mind. Himalayan Salt is rich in minerals beneficial to health and has relaxing properties to help you unwind. Lavender and Chamomile are especially known for helping calm inflamed and irritated skin.

Key Ingredients:
Himalayan Salt - this contains a wide range of minerals beneficial to health and is very relaxing to bathe in.
Lavender - an oil renowned for it's relaxing properties and fresh floral, herbaceous scent. Also an excellent soothing oil for sensitive or inflamed skin.
German Chamomile - the mother herb, used to calm and reassure. Also a particularly good oil for calming inflammation.
Rose Geranium - this oil is especially good for balancing the mind and body. It gives a fresh floral lightness to the blend.
Patchouli - a great oil to alleviate tension and stress and to calm and ground the spirit.
How to Enjoy:
Add a handful (approximately 75g) to bathwater and soak for 20-30 minutes.
Available Size:
250g wide necked bottle
Palm Oil Free
Cruelty Free
Vegan