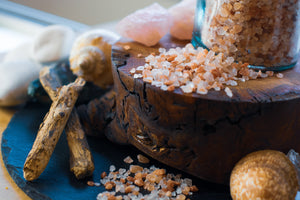 A warm, invigorating blend of Eucalyptus, Black Pepper and Vetiver can help soothe and relax sore muscles and restore calm to mind and body. Himalayan Salt is rich in minerals beneficial to health and has relaxing properties to help you unwind.
Key Ingredients:
Himalayan Salt - this contains a wide range of minerals beneficial to health and is very relaxing to bathe in.
Eucalyptus - a stimulating and warming oil with an invigorating scent. Excellent for reducing inflammatory reactions and swelling.
Black Pepper - Spicy and warming, black pepper is used for alleviating aches and pains.
Vetiver- this is a thick resinous oil and has a beautiful earthy scent. Very good for tension and stress and has a grounding, calming effect.
How to Enjoy:
 Add a handful (approximately 75g) to bathwater and soak for 20-30 minutes.
Available Size:
250g wide necked bottle
Palm Oil Free
Cruelty Free
Vegan