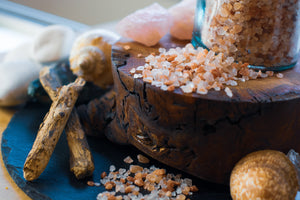 A powerful blend of antiviral oils, and lively citrus fruits will help to keep you revived and boosted! If you are feeling 'under the weather' the combination of therapeutic oils and mineral rich salt can be beneficial to relaxation and revitalise you.
Key Ingredients:
Himalayan Salt - this contains a wide range of minerals beneficial to health and is very relaxing to bathe in.
Organic Lemon Essential Oil- a refreshing and invigorating oil used in aromatherapy as a tonic and good for circulation, infection, fever and respiratory complaints.
Organic Eucalyptus Essential Oil - a stimulating warming oil with an invigorating scent. Anti-bacterial, antiviral and good for reducing inflammation.
Organic Tea Tree Essential Oil - renowned for being a medicinal oil used for centuries to treat wounds and infection. 
White Thyme Essential Oil - a potent oil to stimulate the system and revive!
Lime - similar properties to lemon but with it's own fruity lime flavour.
How to Enjoy:
 Add a handful (approximately 75g) to bathwater and soak for 20-30 minutes.
Available Size:
250g wide necked bottle
Palm Oil Free
Cruelty Free
Vegan