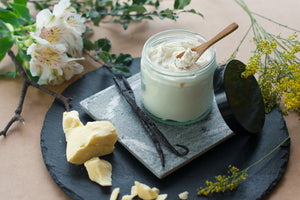 A gentle and comforting natural body butter with a sweet scent of vanilla and white chocolate. Made with organic plant oils and butters, this is a rich and luxurious treat for your skin.
Key Ingredients:
Organic Raw and Unrefined Cocoa Butter -  Intensely moisturising and protective for the skin with chocolate scented tones.
Organic Shea Butter - a rich butter made from the shea nut to moisturise and nourish the skin. 
Organic Macadamia Nut Oil - an especially good oil for dry or mature skin as it is rich in nutrients and essential fatty acids and helps kin healing and restoration.
Vanilla Absolute - a sweet and mild extract from the vanilla pod. In aromatherapy vanilla is used to help with emotional healing.
How to Enjoy:
Gently massage into the skin paying extra attention to dry areas. 
For external use only, please keep out of reach of children and do not eat! (it may be tempting)
Store in a cool dark place. In very hot weather please keep well out of direct sunlight as it can melt the butter. If this happens, pop it into the fridge for a while and it should return to it's original solidity.
Available size:
100g in a fully recyclable glass wide mouthed jar with aluminium lid and biodegradable label.
Organic
Vegan
Palm Oil Free
Cruelty Free