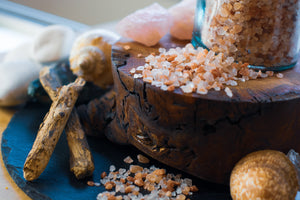 Bring your senses to life with a gorgeous blend of Ylang Ylang, Bergamot and Patchouli oils with a touch of rose for a truly indulgent soak. Himalayan salt is rich in minerals beneficial to health and has relaxing properties to help you unwind.
Key Ingredients:
Himalayan Salt - this contains a wide range of minerals beneficial to health and is very relaxing to bathe in.
Ylang Ylang - a vibrant, euphoric flower, it lifts the senses and relaxes the system.
Bergamot - uplifting and refreshing with a beautiful citrus floral scent.
Patchouli - a deep grounding fragrance, used in aromatherapy to alleviate tension and calm the system.
Rose - A delicate floral scent used to strengthen and uplift.
How to Enjoy:
 Add a handful (approximately 75g) to bathwater and soak for 20-30 minutes.
Available Size:
250g wide necked bottle
Palm Oil Free
Cruelty Free
Vegan